News
Grupo Nutresa strengthens its commitment to cocoa growers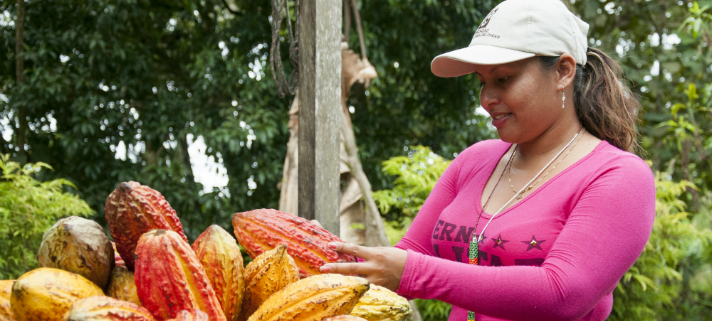 Through the Cocoa–Grower Encounters, Grupo Nutresa promotes sustainable agricultural development in cocoa producers in Colombia.
Fundación Nutresa and Compañía Nacional de Chocolates have completed five consecutive years of offering this space to exchange experiences among the cocoa–producing farmers and entrepreneurs in the country.
The event is part of the Grupo Nutresa Responsible Sourcing strategy, which aims to strengthen long–term relationships with farmers in the country.
For Grupo Nutresa, the management and development of its suppliers is part of its strategic priorities in sustainability. For this reason, and under the leadership of Fundación Nutresa and Compañía Nacional de Chocolates, the Fifth Encounter of Cocoa Growers from the north of the Department of Chocó was held last October 20 and 21 in Belén de Bajirá.
The Encounter was attended by representatives of 11 associations in Chocó, who participated in a time of training, debate and reflection about Colombian cocoa production, their projections, experiences and projects.
One of the issues included in the agenda was Peace and Post–Conflict, presented by the Ideas for Peace Foundation. Topics included marketing, quality certifications and pension savings; demonstration crops were visited to provide farmers with the tools to make their associations recognized as businesses that generate collective and commercial progress for the social and local promotion of the region.
Through initiatives like this, Grupo Nutresa, through its Foundation, contributes to fighting poverty and promoting the human and economic development of rural communities through the empowerment of inclusive businesses, the institutional construction and strengthening of the cocoa–producing associations and the recognition of the farmers as rural entrepreneurs, peacemakers and managers of the agricultural development of their regions.
With an investment of COP1.605 million in inclusive businesses, cocoa–grower projects totaling 21.294 hectares and benefitting nearly 12.000 families in 22 departments and 119 municipalities in the country were supported.
---